Playtech's Marvel Multi-Level Progressive Jackpot Network Explained

28 June 2013
Since launching in 2002, Playtech's progressive jackpot network, known as Win a Jackpot, has paid out a staggering €195+ million in winnings. This attractive progressive jackpot network is available across all of Playtech's gambling platforms. In more recent years, Playtech has developed a variety of branded Marvel™ comic book slot machines and these innovative video slots are all connected to the same prize pool which is called the Marvel Multi-Level Progressive Jackpot.
This jackpot network actually connects approximately 20 online slots, which includes titles such as Thor – The Mighty Avenger, Ghost Rider, Punisher – War Zone, Dare Devil, Iron Man, Iron Man 2, Blade, X-Men, Elektra, Fantastic Four and The Incredible Hulk. Some of the ones mentioned here are available as 25 paylined versions, or as 50 paylined versions, such as The Incredible Hulk for example and Iron Man 2. When the games have two versions like this, the one with fewer winning paylines has a slightly smaller jackpot up for grabs.
There are in fact four individual jackpots that players can compete for, every single day of the year. These jackpot values are always on display in the main lobby of any downloadable playtech casino, but also when you launch one of these slots you will notice the four jackpot values on display just above the reels.
The lowest jackpot is called the Power Jackpot and this has a seed amount of $/€/£100. This will continue to climb until someone scoops the lot.
As soon as a jackpot is won, the value will then automatically reset to its original seed amount. The second lowest jackpot is called the Extra Power Jackpot and the seed mount for this is $/€/£1000. The next highest valued jackpot is the Super Power Jackpot, which has an original seed amount of $/€/£10,000 and the top marvel jackpot is called the Ultimate Power Jackpot, which has a seed amount of $/€/£100,000.
Usually on an online slot machine, the jackpot is won when five jackpot symbols appear along one of the active paylines, but not with the Marvel slots. All four jackpots are still won randomly on these slots, but the accumulating prize pools can only be won from within a randomly triggered jackpot bonus round. Any spin of the reels when playing on ANY of the Marvel slots can gain you entrance into the main jackpot bonus round. This bonus round can even be triggered on the spins that don't award a win.
The higher your average bet-per-spin is, the more likely you are to end up making it to the jackpot bonus game. When you do manage to enter the jackpot bonus round, players are guaranteed to win one of the four previously mentioned jackpots. Once triggered, you will be presented with a grid that contains 20 squares and each square is hiding different jackpot symbols. All you need to do is click on the squares to reveal jackpot symbols.
When you match three identical jackpot symbols, you will win that jackpot. You won't have all day to decide because the jackpot game has a reaction timer, which is located in the bottom right hand side of the game window, so remember to react in time. Don't worry if you do fail to react, because one of the jackpots will be paid out automatically anyway when the timer reaches zero.
Tags:
online slots
,
marvel
,
multi-level progressive
,
jackpot network
,
online slot machine
,
Posted In:
Online Casinos
,
Online Slots
,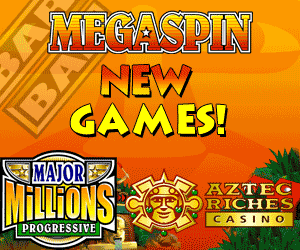 Most popular blog categories