Play on your Favourite Casino Games in the Free Play Mode

15 June 2015
Before you start playing on any online casino game without really understanding the rules, don't forget that you can usually play on the games in the free play demo mode, which is also known as the practice mode or the fun play mode. Sometimes you don't even need to sign up to a casino to practice on their games in this useful mode. This will vary from one online casino to the next though.
At most online casinos that are powered entirely by downloadable and non-downloadable Microgaming software, you do generally have to register an account just to play on their games in the free play mode. Once you have registered an account you then have the option of being able to play either instantly in your browser, from within a secure download client, or from your mobile or tablet device. If you play instantly in your browser, simply hover over a game of your choice and then the option to play in the real money mode or in the free play mode should appear. Just remember to select the appropriate mode of play. When you make your selection, the game should then launch in a matter of seconds.
If you have installed the Microgaming software onto your computer, the option of being able to enter the casino in the real money mode or in the free play mode will become available when you launch the program and arrive at the login page. You must enter your username and password and you will then need to click on the Real Money Mode button or on the Practice Mode button. If you enter the casino in the free play mode but change your mind and would rather play for real cash prizes, you can quite easily switch to the real money mode at any time, just at the click of a button.
Playing in the free play mode is a great way to learn how to implement new strategies. It is also a great way to check out a new game as soon as they arrive. Instead of spending real money on the game only to find that you don't really like it, you could use your fun balance to see whether you like the game or not. The free play mode comes with zero risk and even if you lose all of your fun chips you can quite easily top them up again. Fun chips are usually limitless and you can either top them up again yourself at the 'fun' cashier, or you may just need to close the game and then try re-opening it. Once it has loaded up again you should find that your fun balance has automatically refreshed.
Almost all of the games at online casinos today are available in the real money mode and in the free play mode. However, around 1% or 2% of the games may only be available in the real money mode and will NOT be available in the free play mode. This is usually the progressive jackpot games like Mega Moolah (from Microgaming) or Beach Life (from Playtech). Most other games will be available in the free play mode though.
Tags: online casino, microgaming, casino games, free play mode, practice mode,
Posted In: Casino Games, Online Casino,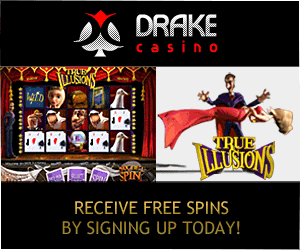 Most popular blog categories