Straight and Progressive Video Slots

29 January 2010
With the arrival of the Internet came the concept of online casinos that offered a variety of games for you to try out, like video slots. Video slots have become one of the most popular games at most casinos. Video slots are often referred to by many different names across the globe, such as video fruit machines in the UK and video poker in Australia. There are even some hand video slot machines called one-armed bandits for its appearance and also because the gambler can lose all their money within a few minutes.
Video slots are similar to the regular slot machines found in land based casinos, but with the key difference being that instead of the traditional three spinning wheels there is a video display with five reels. One of the great things about video slots is the enhanced graphics and audio and video effects, as online casino experts we find this gives a better playing experience when playing slots. The standard three reel slot machines have a single payline but with video slots you can have as many as nine paylines, therefore you have a better chance of winning – which is a huge bonus to video slots. What is more, video slots have a wide range of symbols like multipliers, wild symbols and scatter symbols, games with bonus screens and a feature where players can try doubling or even quadrupling their jackpot winnings.
There are only 2 types of video slots: progressive slots and straight slots. With straight slots you have jackpot payouts that are already determined and dependent on the payout schedule of the slot machine. But with a progressive video slot machine the jackpots are connected to several slot machines or even different slots in different casinos. If you're lucky you might get to play your video slots on progressive slots that have the ability to reach extremes in payment.
With our wealth of experience at gambling online, we find that when choosing your video slot machine it helps to look at its pay table to see the winning combinations before playing. However, a general rule of thumb is the bigger the jackpot, the lower the chance of you winning it – this is why it is a better idea to choose video slots that offer good payouts below the top jackpot prize. Even mid level jackpots can be hit frequently and so still give you entertainment for the money you invest in the video slot. However, with progressive video slots the percentage of every bet is added to the jackpot and so this type of video slot tends to have the worst payout percentages. Sometimes, a 95% progressive video slot machine can drop to a 90% slot machine or even lower. So this is why it is better to play at progressive slots with the winnings from other games and not your hard earned money. Nonetheless, research the video slots first to figure out the payouts will help you get the best value for your money.
If you're interested in finding out more about video slots and other slot machines, get in touch with Casino man or join the discussion on our forum.
Tags: video slots, slot machines, gambling online,
Posted In: Casino Games, Online Slots,
Readers Comments
casinobanana
- 21 June 2011
"I enjoyed reading this post! very helpful!"
cheap nfl jerseys
- 25 April 2010
"Good journey and experience!"
jordan shoes
- 21 April 2010
"great information you write it very clean. I am very lucky to get this tips from you."
free game downloads
- 21 April 2010
"Enjoyed reading the report - most informative thanks Your site is very useful for me .I bookmarked your site!"
Maria Paul
- 01 February 2010
"Your article is very informative. Progressive slot machines make the game exciting by providing a particular way to play the game with an eye-catching incentive. It gives a massive jackpot prize. This game can be accessed from any site having the same game feature. For that players have to contribute a small amount to the jackpot prize. The players can see the constant increase rate of the jackpot prize on the screen also."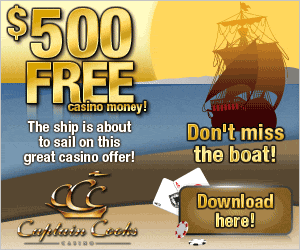 Most popular blog categories