Remarkable Casino Payout Percentage Reports

15 July 2013
This article refers back to just before Christmas 2012 when three fully licensed online casinos all recorded having payout reports which exceeded 100%. Cinema Casino, 777 Dragon Casino and Casino Mate are all owned by a trusted online casino group called Vegas Partner Lounge.
This is a responsible operator which owns several other trusted brands such as River Nile Casino, Casino UK, Crazy Vegas Online Casino, Golden Riviera Casino, Maple Casino and Sun Vegas Casino. Although it isn't unheard of for an online casino to record having an average return-to-player payout report in excess of 100%, it is relatively uncommon, so having three individual casinos with 100%+ payout reports is great news for players.
Most of these findings are actually calculated by independent auditors, such as eCOGRA, which is a reputable non-profit organisation that monitors various aspects of the online gambling industry. Some of the stats are gathered on a monthly basis, whereas others are calculated over a six-monthly basis.
In simple terms, these payout reports are calculated by how much players spend at the casino and how much is returned to them as winnings. So if an online casino reports having a 96.6 payout percentage rate, it means that 96.6% off all wagers are returned to the players as winnings and the remaining 3.4% of total wagers will go into the pockets of the operators.
The payout percentage rate for Cinema Casino reached 102.72%. This result was based on how much their Table Games paid out in winnings to their players. Casino Mate revealed that its payout percentage rate was 103.66%, and this was also based on how much their Table Games paid out, and finally, 777 Dragon Casino revealed an even more impressive payout percentage rate of 109.71%. This figure was based on how much their Poker Games paid out in winnings.
Jessica Cheng, the Brand Manager and Spokesperson for Vegas Partner Lounge said at the time, "We can definitely mark September down as a successful month! With a payout of 109.71% it seems that the cards graced our players with their lucky favour in Poker Games. 777 Dragon Casino aims to make our players happy with exciting offers and big rewards and with this amazing payout result, we're sure that we had many winners that had big smiles on their face in September! Let's hope that this month brings the same result."
At most of today's online casinos, the average return-to-player payout percentage rate tends to hover anywhere between 94% and 97%. Any lower and you should question the integrity of the casino. If it's any higher than 100%, hopefully you will end up quid's-in, although you must be aware that it doesn't guarantee that you will end up winning more cash than players from other online casinos with lower payout rates.
Each state of the art online casino that was mentioned in this article is powered by downloadable and non-downloadable Microgaming software. These trusted online casinos are fully licensed in Kahnawake or by the Lotteries and Gaming Authority of Malta and the majority of them are accessible to UK players.
Tags:
online casino
,
online gambling
,
gambling
,
casino
,
ecogra
,
casino payout
,
Posted In:
Online Casinos
,
Online Gambling
,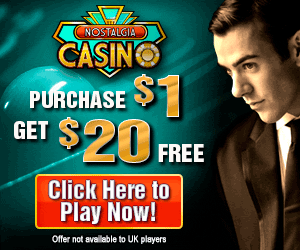 Most popular blog categories