Unique & Exclusive Online Casino Promotional Offers

26 June 2013
Most players know that you can visit basically any online casino today and you will be able to find similar casino bonuses and almost identical promotional offers. The most common online casino bonuses are the welcome bonuses, deposit bonuses, friend referral bonuses and no deposit bonuses. Although the value of these bonuses may vary a great deal from one online casino to the next, the basic principle of the bonus remains the same.

The great news for players today is that there are a growing number of online casinos which have started offering unique and exclusive online casino bonuses, as well as the standard ones that were just mentioned. These generous offers are no longer just cash bonuses or free spins bonuses, but these are physical, real-world prizes and giveaways.

For example, registered members of 888 casino (at the time of writing) are currently being offered the chance to win an XBOX 360 + the popular football game FIFA13, as well as 100 Free Spins for a slot called Euro Reels and the chance to win a share of £5000 in cash. This fantastic casino bonus is for first-time-depositors only and players must remember to enter the promo code: LEAGUE when making that first deposit. You will then receive a raffle ticket for the Champions Raffle and it states that 1-in-2 raffle tickets are guaranteed winners.

Throughout May and the beginning of June of 2013, registered members of a trusted Playtech-powered online casino called Club 777 Casino can enter into an online casino promotion called The Ultimate Sports Event. This epic casino promo allows registered members to choose from one of five top sporting events and they can then hopefully win tickets to their favourite event.

Players will need to opt in for this promotion and you can choose from the following major sporting events: Tickets are currently up for grabs to go and see the Men's Wimbledon Finals, which is a great prize for any tennis fan. You will win tickets to witness the men's final, which takes place on centre court.

You will also be treated to a three-course lunch at Wimbledon and a two night stay in a top 5 star London hotel for two nights. If tennis isn't your thing, there's also the chance to win VIP passes for the US Grand Prix in Austin, Texas. Winners will get to view the action from the F1 viewing suites and they will get to walk down the infamous pit lane, plus you'll get to stay for three nights in a top hotel near the racetrack.

There are also top seats up for grabs to watch the FA Community Shield at Wembley Stadium. Winners of this promo will also get to stay in a top 5 star luxury hotel in London. There is also the opportunity to watch an NBA Allstar game featuring stars from the National League and the American League while being treated to stay at a 5 star New York hotel. If none of these events tickle your fancy, you could opt-in for the chance to watch the British Lions Tour of Australia.

There are also several Microgaming-powered online casinos that are currently giving players the chance to win their place on a Mediterranean cruise-of-a-lifetime through a promotion called Mediterranean Victory Voyage. This cruise ship will set sail on June 23rd 2013.

These are just some of the exclusive casino promotions that you can find online today, but there are plenty more out there just waiting for you to take advantage of.
Tags:
online casino
,
online casino bonuses
,
promotional offers
,
welcome bonuses
,
Posted In:
Online Casinos
,
Casino bonus
,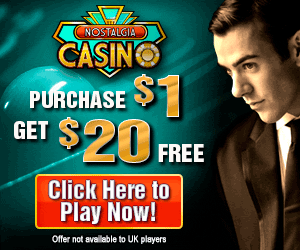 Most popular blog categories