Category: new slots games
New Playboy Slot Coming Soon


04 October 2013
Microgaming has set pulses racing with the release of their brand new Playboy themed slot called Playboy. This slot is now available in approximately 30 different Microgaming powered online casinos and it has 5 reels and 243 ways to win per spin.


This has to be the sexiest slot available online today and it features four hot Playboy bunnies including Kimi, Sofia, Ashley and Jillian (a dark haired, a brunette, a blonde and red haired). Each super-fit character represents a different Free Spins bonus round and each free spin mode awards slightly better prizes than the previous free spin mode, which can only be unlocked sequentially.
EnglishHarbour.com and VEGAS TECHNOLOGY LAUNCH 2 NEW EXCLUSIVE GAMES


28 June 2006
English Harbour Casino today launched CLEOPATRA'S PYRAMID, the first of its kind slot machine and 10 HIGH TABLE TEXAS HOLD'EM on its Vegas Technology software platform.

Cleopatra's Pyramid is a 20 pay-line bonus slot game which incorporates all of the features of a Las Vegas slot machine with a $100,000 jackpot and a revolutionary bonus game: The $250,000 Pyramid. Guide Cleopatra through 7 levels of the pyramid without hitting the deadly asp and win up to $250,000. The bonus game is also guaranteed to pay out every time.
Another 4 great games from Microgaming to tickle your summer fancies


05 June 2006
1. WORLD CUP MANIA BONUS SLOT


It's almost World Cup time for soccer fans all over the globe, and to mark this exhilarating series of the very best that football has to offer, we're launching our own champion video slot branded WORLD CUP MANIA. Setting the scene for all this frenetic soccer action is a range of fun graphics in colours as bright as a World Cup team strip.


Keeping body and soul together up there in the stands is a great choice of fast food and beer, and there's even a fog horn to celebrate those bonus free kicks! It's time to blow the whistle on the release of the fabulous football-themed video slot, World Cup Mania. With 15 paylines, 5 coins per line and a Max Bet of 75 coins this game promises to have players and spectators alike on the edge of their seats.


Finding a maximum of 5 trophy symbols not only makes you a winner, but gives you a chance to make even bigger earnings in the Free Kick Bonus - where missing the goal posts is not even an option! So, quickly, hurry - put on your football gear as the game World Cup Mania is about to begin!
InterCasino release game Pack 9


31 May 2006
As always, those who are leaders in an industry are constantly improving and top online casino InterCasino is no exception. This latest new games pack includes some new additions and a veritable selection of new online slots.
New slots are looking better than ever, Realtime are pulling their socks up


26 May 2006
In a timely fashion, Realtime gaming have released a set of 6 new slots games which really show that they are producing quality online slots with real playability.

These new games are totally awesome with their great graphics and excellent new bonus features including free spins, bonus prizes and bonus games.

The graphics are visually intense with a lot of theming across the board, and the overall slot games are just spectacularly good fun.

Underneath is a brief intro on each of these new slot games:
Get blown away with all new Twister 5 reel Slots


26 April 2006
Breaking News just in: Twister is a 5 reel, 15 payline Video slot which is heading your way…only this time, don't take cover because - you have nothing to lose and everything to gain!

If 3, 4 or 5 TV symbols happen to "scatter" their way across your path - watch out because 20 Free Spins are on their way - doubling all your winnings. Finally, for those Players ready to "Gamble" with the forces of Mother Nature, a chance to double their whirlwind winnings awaits them!
new release Avalon slots from Microgaming


26 April 2006
Extending our selection of big, epic-themed games, Avalon summons back the mythical past when chivalrous knights roamed the land doing good deeds and magic was everywhere. A time of mysterious lakes, sword bearers and silvery castles like that on the isle of Avalon, where the great Excalibur awaits the return of King Arthur and his Knights of the Round Table.
WOW! 1,000 Free Spins to win a $1,000 minimum jackpot!


12 April 2006
There's an exciting Free Spins promotion on at River Belle Online Casino that offers New Players 1,000 Free Spins. To win the WowPot Progressive Jackpot the maximum bet is 25c, so with a deposit of $50 players get 1,000 chances to try their luck. The jackpot is never less than $1,000, so download and play today and you could be River Belle's next big winner.
WowPot is a 3-coin, 1-payline, 3-reel game. When you play three coins the WowPot symbols are wild and double the payout of any combination it completes. With a minimum jackpot of $1,000, WowPot is one of those games that will have you come back to play time and time again!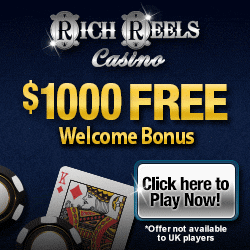 Most popular blog categories