Tag: jackpot factory
Leading slots tournament casino to give out 200 cash prizes, including $50,000 grand prize


01 July 2008
All Slots Online Casino (www.allslots.com), a proud member of the Jackpot Factory Group and a leading online slot casino, is making another big splash just in time for summer with a brand new $100,000 Free Slots Tournament that will award 200 cash prizes, including a hefty $50,000 grand prize.

Like previous free slots tournaments, All Slots is hosting free semi-final events. The top 50 winners each day will win a free ticket to the $100,000 Main Event, which is scheduled for the first weekend in August. The tournament allows players to view their standings in a real time environment, which further builds All Slots Casino's image as one of the most exciting casinos on the Internet.
Wild Jack Online Casino Showcases New High Streak Blackjack Game


09 January 2008
Wild Jack Casino (www.wildjack.com), a member of the Jackpot Factory Group and one of the world's largest video poker and table game-focused casinos on the web, is proud to announce the launch of its newest blackjack game: High Streak European Blackjack Gold.

Based on the European rules of blackjack, and built upon the highly successful and exciting Gold Series platform, this online blackjack game adds more options and fun with a side bet option known as the High Streak. And when activated, the High Streak feature can reward the skilled player with a very generous 10:1 payout.
Jackpot Factory Launches All Slots Online Casino in Multiple Languages


31 July 2007
The Jackpot Factory (www.jackpotfactory.com), a leading online casino group known for first-rate customer support and a wealth of games, announced that its All Slots Casino (www.allslots.com) will now offer multiple languages, allowing French, German, Italian and Spanish speakers to play over 300 casino games in a localised language environment.

The new multi-language Viper software pack is powered by Microgaming, the world's largest online gaming software provider, and can be downloaded for free at www.allslots.com. With the new platform, players select the language of their choice at the beginning of the download and registration process, which takes under 10 minutes.
Good As Gold


03 April 2007
Jackpot Factory's players are Good As Gold! Five loyal players per hour will have their names displayed on a ticker. If your name appears, you are entitled to claim a golden Bonus of $25 by clicking the "claim" button underneath the Good As Gold ticker while your name is exhibited.


Jackpot Factory Birthday at $150,000 on Super 7's


22 November 2006
Jackpot Factory is celebrating its 7th birthday by giving away presents to over 2500 players. During November, Jackpot Factory will be giving away over $150,000 - that's over $5,000 a day.

Visit the scoreboard to see the top ten players with the single highest payouts. Each day, $777 will go to the player at the top of the scoreboard, $77 to the rest of the players on the scoreboard.
2 Exciting Jackpot Factory Promotions


29 September 2006
1. Pumpkin Progressive
During the first half of October carve your way to getting more from playing progressive slots. Many lucky players who play a scary amount of progressive slots will share $20,000 and the top 10 players with the biggest payouts will split $30,000. Track these players from October 3rd to October 16th on the haunted scoreboard. Watch on the 9th when the scoreboard will ghostly reset itself for more chances win. Lastly, you will not stop screaming if you are the top winner after two weekends who will win a luxury all-expresses paid trip to Las Vegas. You don't want to miss this batch of pumpkins this Halloween season; they will give you goose bumps with the winnings.
Another new set of Microgaming games


28 September 2006
This month All Jackpots Casino seems like a Haunted house with all the promotions popping up and thrilling new games. The new games will be released on the 27th of September, right before all the goblins and zombies come out to play in October.

October New Games
-------------------------------------
** CHOCOLATE FACTORY Video Slot
** JUNGLE 7's Classic Slot
** LEGACY Classic Slot
** GOLD SERIES volume III Blackjack

Get the fun started with a Buy $25, Get $75 or Buy $50, Get $200 bonus, up to a 400% bonus with your first deposit at All Jackpots Casino!


$250,000 Bonus Sale


05 September 2006
Cha-ching… fall is the time to cash in. From September 8th to October 1st Jackpot Factory will be giving away the gigantic total sum of $250,000. Each weekend enjoy 10% back on all purchases over $50! Open to everyone, this promotion is first come - first serve, so don't wait. Every weekend has a cap amount - until this is reached, you can win back 10% on all your purchases.
First Annual Jackpot Factory $100,000 Sea Quest


05 July 2006
Raise your sails and let the wind lead you to riches in this month-long tournament. Players win "miles" through deposits and payouts.

A live scoreboard will show the progress of the 10 top contenders as their boats sail their way to victory. Each week cash bonuses between $100 and $8000 will be awarded.


Brand New Bonus Deuces Wild Video Poker


28 June 2006
You read the title correct - every deuce in this classic style video poker is Wild.

It's like having 4 jokers in the pack - increasing your chances for a winning hand. The Royal Flush is still the big win, winning you 5000 coins. With a max bet of 5 coins, you could win the huge jackpot of 25,000 coins.
$75,000 in Bonuses are Blooming at the Jackpot Factory


13 April 2006
The Jackpot Factory Group (www.jackpotfactory.com), one of Microgaming's elite casino groups with a wide array of games and incredible promotions, announced the launch of "Bonuses in Bloom" - a random gameplay promotion with up to $75,000 in cash prizes at stake. The bonuses will be raining down all month at All Slots Casino, All Jackpots Casino, and First Web Casino and anyone playing their favorite game is automatically eligible for the random bonus.

To make the promotion truly arbitrary, the Jackpot Factory Group created a random bonus generator that first detects which casino accounts are online and then randomly selects a winner. Subsequently, the lucky winners are automatically credited and notified by email.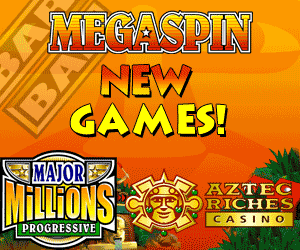 Most popular blog categories